Spectators:
• Stay on the sidewalk and give the floats plenty of space.
• Don't approach the animals. The horses may be beautiful, but they can be unpredictable, especially when there is so much going on around them.
• Don't let your kids race toward a moving float to retrieve any candy on the ground. Wait until it is safe.
Floats:
• If you're handing out candy, please have walkers approach spectators to hand out the candy. Don't throw it from your vehicle.
• If you're walking beside your float, watch your footing. There may be ice, horse droppings, etc. that could cause you to lose your balance.
• Don't allow children on your float to hop on and off the float while it's moving.
With everyone's cooperation, we can ensure our parade remains a safe and joyous occasion for everyone. Thank you.
People's Choice Poll
Come back on parade night to vote for your favourite float!
Float Contest Categories:
Best Overall
Best Business Float
Best Non-Profit Float
Most Lights
Best Decorated Agricultural Equipment
People's Choice Award
Most Original Float
Best Animal Float
Float winners each get a gift basket with gifts from local businesses.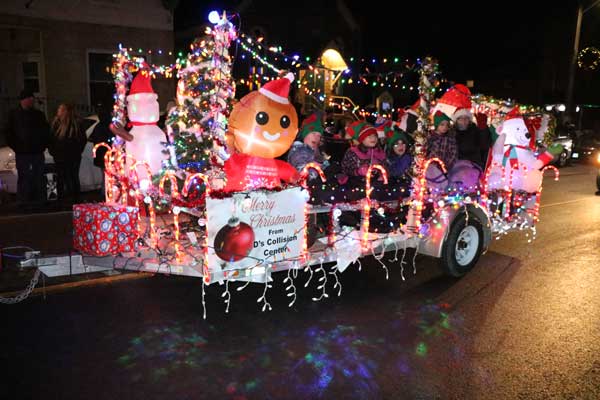 D's Collision took home the prize for the Most Lights category in 2018. 
The parade is assembled in the parking lot of the North Dundas Township Office at 636 St Lawrence St, Winchester.
It travels:
Into town on St. Lawrence St.
Right onto York St.
Left onto Albert St.
Left onto Main St.
Through town all the way to Dawley Drive.
List will be updated as floats are registered. Please keep checking back!
La Garde de la Nativité de Cornwall
The Maple Leaf Brass Band
Rocky Road Rescue
Not for profit, all-breed, foster-based, volunteer-run dog rescue.
Three Voices Two hands
Three opera singers and a piano player
Alternatively, you can download our Parade Entry Form (opens in PDF), print it, fill it out and return it to the Township Office.
General Information:
Float registration is FREE!
Hot food and drinks, courtesy of the Winchester Leos, will be served inside the Township Office from 5:00 to 6:30 pm. Donations are appreciated.
Rules:
Candy is not to be thrown from your entry. If you wish to distribute treats, please have someone walk beside your entry to hand them out.
Maximum height of entry: 13 feet
Maximum width of entry: 14 feet
Try to illuminate your towing vehicle as well as your float.
Identify your entry by visibly displaying your name, your company name, and/or your sponsor's name. This assists the announcers and identifies your entry to the crowd.
The number assigned to your entry must displayed on the passenger side of your dashboard.
If you plan to drop off your float early and leave it, please have an organizer advise where to park it.
Assembly:
The parade will assemble at the North Dundas Township yard at 636 St. Lawrence Street, Winchester. The yard will open at 4 pm. All entries must be in the yard by 6:30 pm. Upon arrival, please check in with the parade organizer. All vehicles that are not part of the parade must be parked off-site. A drop-off zone will be available near the entrance.
Check back soon to view our 2019 sponsors.