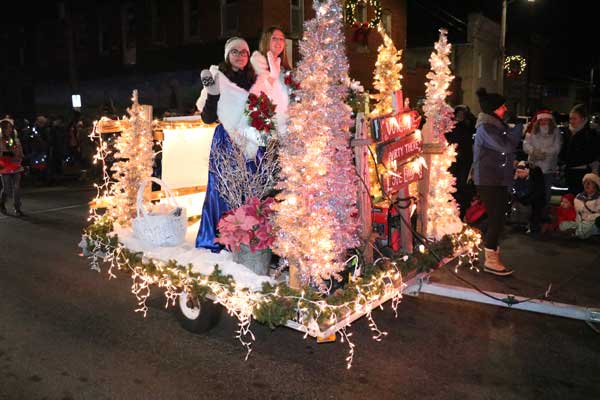 Location: Winchester
Cost: Free for both floats and spectators. Donations of cash and/or non-perishable food items to Community Food Share and the North Dundas Christmas Fund are welcome and will be collected along the parade route.
Date: Saturday, Dec. 3, 2022
Time: 7:00 pm
All registered floats are automatically entered in our annual Float Contest.
Prizes are awarded after the event, and consist of baskets containing local products.
Our Float Contest Categories are:
Best Overall
Best Business Float
Best Non-Profit Float
Best Agricultural Float
Best Animal Float
Most Lights
People's Choice (come back on event night to vote!)
Most Original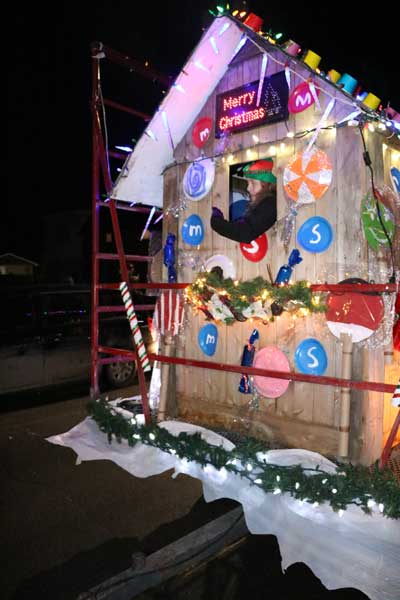 Township of North Dundas Council
The Capital Cowgirls Drill Team
Ecole Elementaire Sainte Therese d'Avila
The Great Music Guys
Opera singers and pianists trio (Chris, Alex and Margaret)
Maple Leaf Brass Band
Dr. Orkestro's One-Man-Marching-Band
Dutchie the Clown
MICO's Restoration
Ashley Thomas School of Dance
Mid Mountain Performance
Seaway Valley Crime Stoppers
D's Collision Center
Camp Sheldrick Scout Camp
Nation Valley ATV Club
Village Kitchen and Dairy Bar
Lockwood Brothers Construction
R.A. Quality Homes
BMR Winchester
Camouflauge Property Maintenance (two floats)
Adam Murray and Marc Seguin
North Dundas Minor Hockey Association
Therien Martial Arts and Fitness Centre
Dan R Equipment
E.C. Carruthers & Sons
Connolly Flooring / Nine Mile Repair
Whitetail Construction
Smash Bros. Racing
North Dundas Fire Department, Station 3 (Winchester)
Kemptville Retirement Living
Topline Trailer & Equipment/Weagant Farm Supplies
Agri Partners Crop Centre
North Dundas Township Roads Department
North Dundas District High School Senior Concert Band
Dundas Manor LTCH (bikes)
North Dundas Fire Station 1 (Morewood)
Good Old Fashioned Country Christmas (John & Kathy Marion)
Winchester Hawks Hockey Club
Kemptville Legion Pipes and Drums
Pro Bin Rentals Inc.
Morewood Recreation Association
Como Farm Equipment (two tractors)
TH Farms
Winchester Ghostbusters (Subsidiary of Capital Ghostbusters of Ottawa)
Hydro One Winchester
Dundas Dairy Producers Committee
Green Tech Winchester
BTL Excavation and Construction
Santa!
The planning committee is solely responsible for the safety of all participants and spectators.
For this reason, we will have extra safety measures in place. It is our goal to make this occasion as fun as possible for everyone involved. With this in mind, we thank everyone in advance for complying with the rules and guidelines.
Float Assembly Guidelines:
The parade will assemble at the North Dundas Twp. Office, 636 St. Lawrence St.
The yard opens at 3 pm.
All entries must be in the yard by 6:30 pm.
All vehicles that are not part of the parade must be parked off-site.
A drop-off zone will be available off the entrance to the yard.
Please check in with an organizer upon arrival.
Parade Participant Rules:
Please

do not

have anyone in your entry dress as Santa.

If you wish to distribute treats, please have someone

walk beside your entry

to hand them out.

Float max height: 13 feet; max width: 14 feet.

Try to

illuminate your towing vehicle

as well as your float.

Identify your entry by visibly displaying your name, your company name, and/or your sponsor's name. This assists the announcers and

identifies your entry to the crowd

. 

The number assigned to your entry must be displayed in the

right front corner of your towing vehicle's dashboard

.

If you plan to drop off your float early and leave it, please have an organizer advise where to park it.
Starts at North Dundas Municipal Building
North on St. Lawrence St.
Right on York St.
Left on Albert St.
Left on Main St.
Ends with a left on Dawley Dr.
It takes approximately one to one and a half hours to travel the 3 km route.
Registration for the 2023 North Dundas Parade of Lights will open in September.